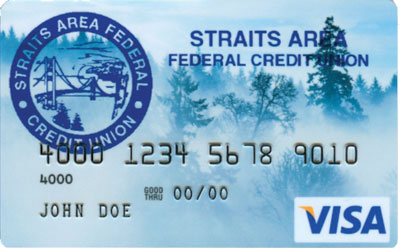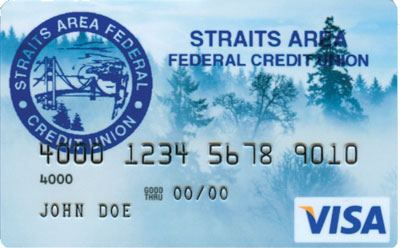 In all of Cheboygan County and around the Straits of Mackinac area, there's no better deal for saving money on your credit card than Straits Area Federal Credit Union.
Interest Rates starting at

9.9% APR

for our Visa Classic Card
Visa Platinum starts at

7.9% APR

No Monthly Fees
No Annual Fees
No additional fees for Cash Advances.
Score Card Rewards Bonus Points Program
Our interest rates start at 9.9% APR for our Visa Classic Credit Card and only 7.9% APR on our Visa Platinum Credit Card. Take a look at what you're paying on your current bank credit card. Come into one of our convenient locations in Cheboygan, Indian River, or Mackinaw City for all the details.
Straits Area Federal Credit Union charges no monthly fees on Visa Credit Cards. We charge no annual fee. And there are no additional fees for cash advances (most other cards charge a higher interest rate for cash advances or charge some kind of additional fee).
Our Scorecard Rewards bonus program allows you to gain bonus points for each dollar spent.  Purchases made at certain locations even offer double bonus points!  Points can be redeemed for a wide range of items including electronics, household appliances, or even airline tickets.  Every Straits Area Federal Credit Union Visa Card is automatically enrolled in our bonus program.
You can make your payment at any of our credit union branches so you don't have to mail in a payment. You can pay online or through text banking. It's all so easy when you save money on your Visa Credit Card at Straits Area Federal Credit Union. 
Stop in today and see one of our friendly tellers in Cheboygan, Indian River, or Mackinaw City. Or you can start your application online. Why pay too much for your credit card services?
 
____________________________________________________________________________________________________
Each time you use your Straits Area Federal Credit Union Visa Card you earn valuable ScoreCard Bonus Points good toward gift and travel awards? The ScoreCard Bonus Point program is a standard feature of your Straits Area Federal Credit Union Visa Card.  You earn one Scorecard Bonus Point for every net dollar you spend.  So whether you buy groceries or gas, pay bills, go to the movies or out to dinner, if you pay with your Straits Area Federal Credit Union Visa Card you will earn Bonus Points.  Start shopping today and you'll start rewarding yourself before you know it!
Accumulated points can be redeemed for awards like appliances, jewelry, cookware, and recreation equipment.  If travel is more your style, redeem your points for airline tickets, car rentals, hotel stays, experience awards, cruises and more.
Sign up at Scorecardsrewards.com   and don't forget to look at the ScoreMore! section of the website to see participating retailers who offer bonus points on purchases.